Great things happen to those who dare go beyond the limits of traditional choices & customs. Below-the-line Marketing (BTL) is an unconventional strategy that ensures success and esteem for a business.
Now, you must be wondering what is unique about BTL marketing. To find the answer stay on this page and read this blog post. In addition to the concept of BTL Marketing, we also listed some reasons why you should Choose a Below Line Marketing Agency to have your business promoted against the competitors.
Moreover, you can check out our services (Isilumko Activate, South Africa). We are Integrated Brand Activations specialists with 28 years of experience and focus on 360° marketing genres to deliver the most valuable results to our customers.
Understanding the Concept of Below the Line Marketing
Before exploring further details, it would be essential to understand the concept behind BTL Marketing. Below-the-line Marketing is a promotional strategy that uses personalized advertisement channels rather than the usual marketing mediums like Print-media and Television.
It involves the usage of all those channels & activities that can help the businesses reach a specific audience. Other than that, Below-the-line Marketing strategies get used in building brand awareness, generating leads, and driving sales.
What are the Different Channels of Below-the-line Marketing?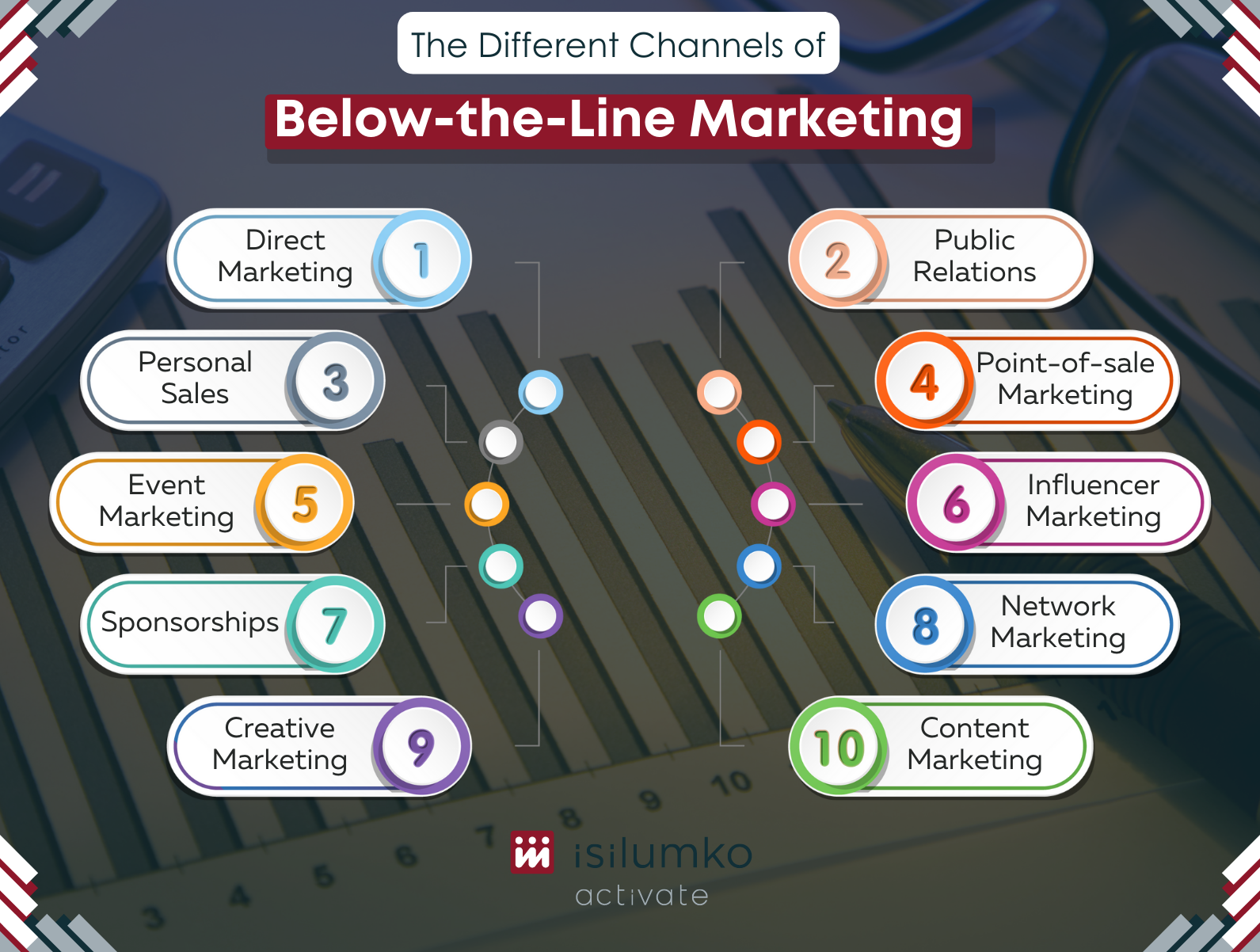 How BTL Marketing shapes today's Advertising Landscape?
Below-the-line (BTL) Marketing is becoming popular among businesses that seek more cost-effective, measurable, and personalized ways to satisfy their customers. Some points that emphasize the importance of BTL Marketing in today's advertisement landscape are as follows:
Now, businesses have multiple mediums to connect with their audience and customers.
Through BTL Marketing, the brands focus on building an online reputation that helps in driving more sales.
By using different channels of Below Line Marketing, brands create memorable experiences to create a positive brand image and identity.
Reasons to Choose a BTL Agency
There are several reasons in favor of selecting a BTL Marketing agency over other promotional companies. Some of them are as follows:
Customization
In BTL Marketing, hundreds of ways can get utilized to customize your brand's message, promotional elements, and branding campaigns. Some examples include sending personalized deliverables to customers, adapting to the results of live-feedback analytics, and driving promotional campaigns according to the demographics of the customers.
Through customization, BTL marketers can effectively reach a specific audience, drive more sales, and run promotional campaigns that resonate with the customers.
Adaptiveness to the latest Marketing Trends
Adaptiveness to the latest Marketing trends is crucial for BTL Marketers to stay competitive and relevant in the industry. Those who remain back in the race cannot survive in the advancing world. The same thing applies to Below-the-line Marketing.
So, BTL Marketing Agencies have this benefit over other companies. They utilize the modern and latest tools in their campaigns. Some examples of advertising tools include Digital Marketing, Data-Driven Methods, and Experiential Marketing.
So, People hire BTL Agencies because they think relevancy in the industry is only possible by using the latest technologies.
Focuses on Customer Loyalty
Customer loyalty is a critical part of BTL Marketing. It refers to the process of building relationships with customers and other audiences. BTL Agencies use several Marketing strategies to create experiences that resonate with the potential audience and turn them into repeat customers.
Some of the ways that BTL marketing agencies utilize this purpose include the following:
Experiential Marketing – Creating immersive and memorable experiences for the customers.
Loyalty Programs – Incentivizing customers through rewards, discounts, and exclusive offers to make sure of long-lasting relationships.
Targeted Messages and Personalization – Creating successive campaigns that are highly specific and directed towards groups of people according to their demographics and vice versa.
Greater Customer Engagement
The ability to keep the customers engaged in a brand's story is the goal of a BTL Marketing Agency. It has many benefits for the brands, for example, better sales, enhanced brand awareness, improved online reputation, and vice versa.
So, Below-the-line Marketing Agencies deeply emphasize this goal and do their best to use all the relevant strategies. Some of those methods are the following:
Tailoring the brand message according to the demographics of potential customers.
Creating unique & memorable event experiences using Experiential Marketing.
Using Social Media for connecting and communicating with customers.
Through Incentivizing the customers through rewards, loyalty programs, and discounts.
Using Influencer Marketing to develop campaigns that are highly relatable to the consumers.
Measurable Results and ROI (Return on Investment)
The ability to track a campaign's results and ROI – are unique properties of the Below-the-line Marketing method. And it is one of the crucial factors why people prefer to go forward with BTL agencies because this way, they can track the brand analytics and save the cost by terminating unnecessary services.
Following are some ways that Below-the-line Marketing agencies usually employ to track the analytics and measure the results of Campaigns: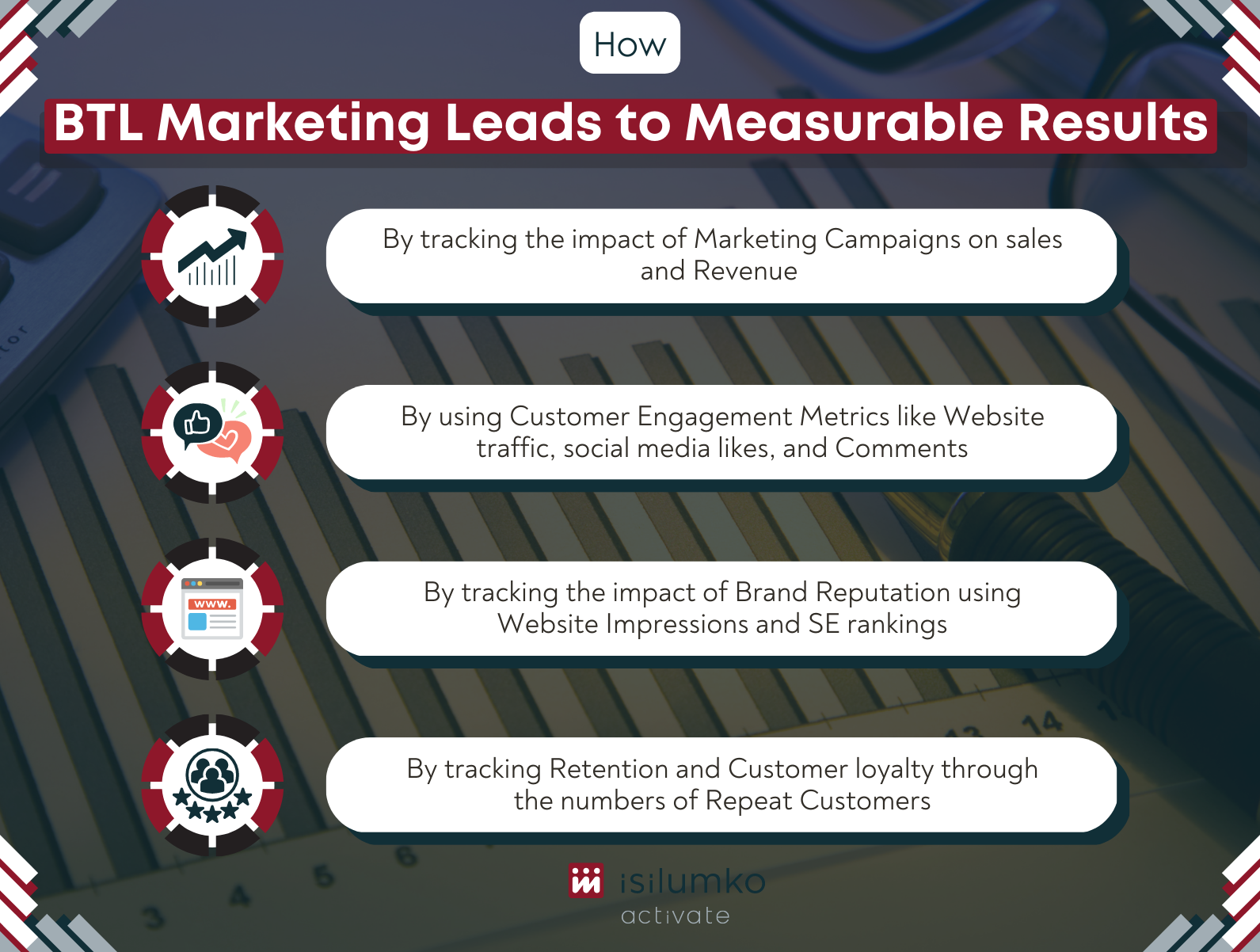 Better integration with other Marketing approaches
Integration with other Marketing approaches is one of the essential ways to create cohesive promotional experiences for customers. By combining different Marketing methods, BTL Marketing Agencies reach more people than before and drive better sales with buzzing customer engagement.
Some common integration mediums that get utilized by the BTL Marketing agencies include the following:
The Line Marketing Methods (Mass Media Advertising)
Blogging
Social Media
Network Marketing
Influencer Marketing
Pocket-friendly Marketing
The cost-effectiveness of the BTL Marketing agencies might be the most significant factor why people choose them over other companies. These agencies are cost-friendly in so many ways that are as follows:
You do not need a Mass-Media Advertisement or campaign in BTL Marketing. So, you can save that money.
You can customize the services according to the budget of your brand. This way, you get better sales and customer engagement.
The results and metrics of BTL Marketing are measurable in many ways. By analyzing the impact of services over time, you can decide if you want to keep them. So, by removing some unnecessary parts of the package, you can save money.
Creativity & Innovation
Creativity and Innovation are essential for the success of Below-the-line Marketing techniques. Therefore, the BTL Agencies highly emphasize these elements and showcase them in every possible way. Nonetheless, this ability to craft unique experiences has many benefits, for example, long-term consumer loyalty, enhanced customer engagement, and better sales.
Some creative ways that BTL Marketing agencies usually implement in the campaigns include Interactive Displays, Graffiti Walls, gaming arcades, promotional products, and social media giveaways & contests.
How to Choose the Best BTL Agency?
It can be a tiresome task to find the right BTL Agency for the promotional management of your business. However, here are some steps to consider when you go through the selection process:
Determine your Marketing Goals
Understand your business Marketing goals and develop a framework of expectations. It will help you shortlist whatever you want to achieve by hiring a Below-the-line Marketing Agency.
Check their Expertise and Portfolio
While shortlisting the potential BTL Agency options, focus on reviewing their expertise and portfolio. Ask them clearly if they can fulfill your expectations and ask for their relevant work experiences for your required service.
Consider their Creativity & Communication
In addition to other factors, look for creativity & Innovation in the previous work experiences of a BTL Agency. And before making a final decision, communicate with the agency's persons. This way, you will know how openly they communicate and collaborate with their customers.
Determine and Set Your Budget
Lastly, determine your budget and see if it corresponds to the respective agency's pricing structure. Select a company that seems truly transparent about its pricing and try to negotiate and adjust the budget with them.
FAQs
What does below-the-line mean in marketing?
In Marketing, Below the line refers to all the marketing strategies not directed towards consumers through traditional mediums like Mass-media and Television. Instead, BTL Marketing involves personalized marketing techniques like sponsorships, direct mail, and experiential marketing.
What is Above the line versus Below the line in marketing?
Above-the-line Marketing refers to mass advertising to reach a wider audience using television, radio, and print media. On the contrary, Below-the-line Marketing targets a specific audience through personalized communication channels like events, sponsorships, and public relations.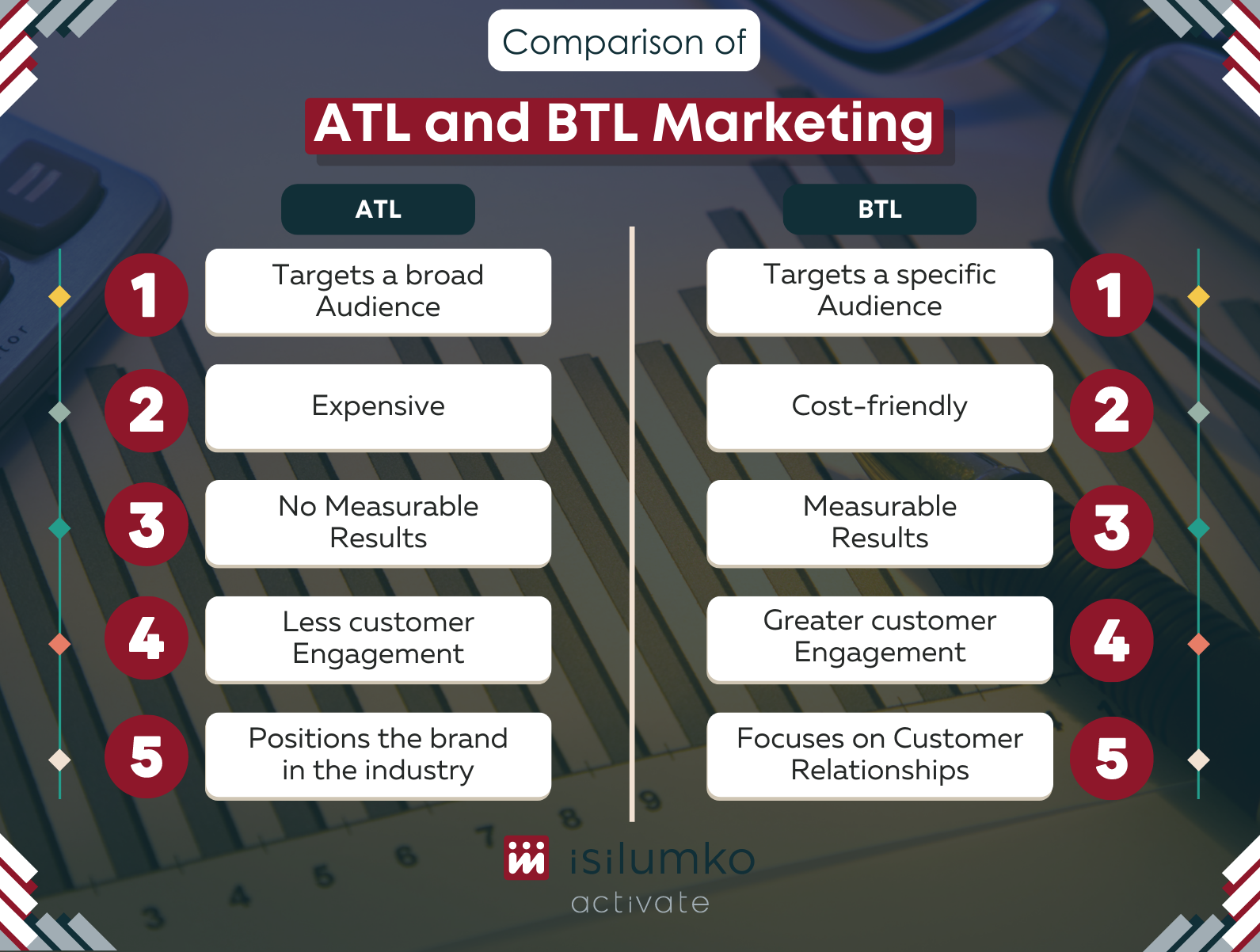 What are examples of Below-the-line marketing?
Some examples of Below Line Marketing are the following:
Tradeshows & Exhibitions
Influencer Marketing
Sponsorships
Point-of-sale marketing
Direct Mails
Public Relations
Experiential Marketing
What are BTL companies?
BTL or Below-the-line companies are Marketing agencies that do not follow traditional methods for brand promotion. Instead, they develop customized & personalized marketing campaigns for the businesses to mark their success among the competitors.
Bottom-Line
To summarize, we would say that hiring a Below the line Marketing Agency can be your best decision if you want innovative & personalized Marketing solutions for your business. A BTL Agency offers many benefits ranging from flexibility & cost-effectiveness to Customer loyalty and Measurable Results.
By Choosing the right Below-the-line Marketing Agency, your business can have marketing campaigns that fully resonate with the target audience. So, focus on the mentioned benefits & tips and make your decision.
Lastly, we would love to drive your business success through our 360° holistic Marketing Approaches, for example, BTL techniques like Experiential and Event Marketing. Contact us and get the best marketing services in South Africa.